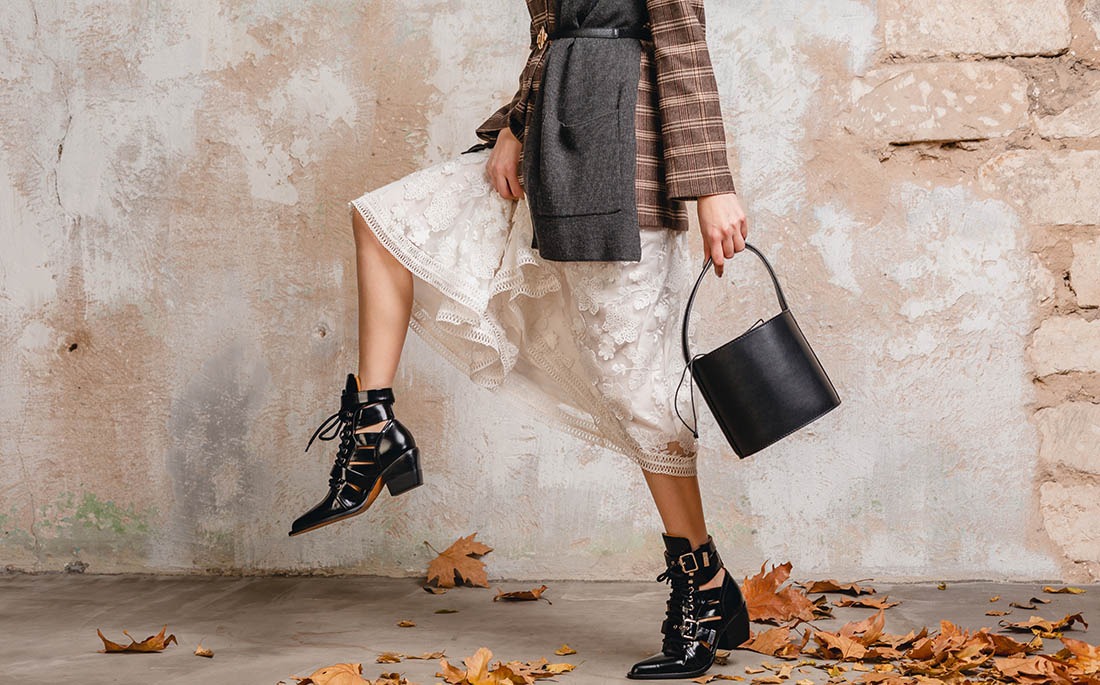 2021 comes with the hope of a better and healthier year. And when that happens, we expand our horizons and give importance to more and more things. The beginning of the year is also the moment to start thinking about appearance. To take off our pajamas, to move, to bring more colors to the wardrobe and more shine among our make-up.
An interesting side effect of the pandemic is that some designers refrained from their usual experiments and extravagance. Instead, according to Vogue, practicality was a priority. Will it be the same in the new year?
8 fashion trends for 2021
Transparent lace
Thick and thick clothes from winter will be replaced with light clothes in layers in the spring. Dior designers mix transparent elements that barely touch the base to give it a little density. Fashionista advise to layer individual pieces. This adds mystery to the outfit, and the boundaries between outerwear and underwear are blurred.
Shoulders and pads
Balenciaga relies on bold cuts in the shoulder area in 2021. The luxury fashion house showed off many outfits with bulging shoulders during Paris Fashion Week in March. Many other brands have also experimented with the idea.
"High shoulders are not new, but they do not disappear"

— Vogue
Fringe
Long fringes will return in 2021. We are talking not only about fringes in tissues, but also in hair. We will just spin and they will spin around us.
DIY prints
Stagnation at home has led many people to decide to transform their clothes – out of boredom, out of a desire to be different with something. Dyeing fabrics with textile dyes that produce a stain effect will be a current trend in 2021.
The color trend has been popular for some time, but it has also been chosen by some of the great designers who carry it into their latest collections. "From caftans to maxi dresses, sweatshirts and denim, these models are inspired by every color of the rainbow," commented Harper's Bazzar.
Pastel tones
If you prefer pastel and candy colors, then 2021 will be your year. "These sorbet-inspired colors are the perfect option for summer and suit a wide variety of skin tones at this time of year," notes The Trend Spotter.
Suits in mint green or trench coats in delicate lavender – or best both at the same time. This will be one of the most elegant styles for the upcoming seasons.
Networks
Let's catch the good in 2021 – it's possible. Because networks will be a particularly current fashion accent. These nets are not to warm you, they serve a higher purpose – pleasure for the eyes. Stella McCartney uses this element extremely often. It even doubles it by adding and fringe.
Naked body
"It's never a bad idea to show a little more flesh … randomly," Christina Aguilera taught us in 2002. Is society waking up to her words? Or do designers just don't have enough fabric? Actually it does not matter. But 2021 definitely comes with this trend – naked body parts on display.
"Showing skin in moderation is almost a necessity, just like wearing warm clothes in the cold months," says Marie Claire. Designers like Prada have also found ways to reveal more flesh in unexpected ways.
COVID accessories
Fashion house Kenzo, whose founder died in 2020 of coronavirus, showed a large number of outfits that covered the face and sometimes the whole body. This may not have been affected by COVID, but these accessories will provide protection against the virus anyway. The topic of social distancing is definitely felt in fashion.
The other big trend influenced by the coronavirus, of course, will continue to be stylish face masks.